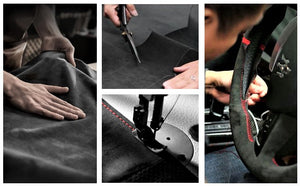 Soft touch. Firm grip. Racing Style
Nappa (smooth/perforated)
Nappa leather provides a higher degree of luxury.
It was named for the Nappa Valley in California, where the tanning company that developed it was located.
With this finish and pigmentation applied, Nappa leather is more durable and distinct than aniline or semi-aniline leathers – perfect for a luxury automobile



Alcantara
Alcantara offers a firm grip.
A preferred material for most race cars interiors
Alcantara was developed in the 1970s by Miyoshi Okamoto and initially manufactured by the Italian company Alcantara.
It has a soft, suede-like microfibre pile, Alcantara is different from suede as it is more durable, stain resistant, and easier to maintain..
color of your choice
For sewing steering wheel cover on a car steering wheel, we provide strong bonded nylon thread, multiple colours available
Red. Orange. Yellow. Green. Blue. Purple. Black. Grey. White/beige etc....
Mix colour stitching (for example, BMW tri-color in sky blue, blue and red)
Stripe on 12 o'clock
Steering wheel markings are known from racing and are also referred to as12 o'clock markings or center stripe
Racing and rally drivers often use the steering wheel with center stripe on top. This lets them know using peripheral vision only when the wheel is pointing straight
Hollow Decoration
A new design of the center stripe is available now if you want add this on your steering wheel cover and make it looks a bit different from others
Is there any other color I can choose?
Yes, can do
why not
Multi-color
or if you would like more colors
what about the M-sport tri-color stripe for your BMW
German-flag-color in black, yellow and red
Italian-flag-color in green, white and red
Many more options of your choice
sewing tips
When do the sewing. Tie a small knot at the end of your thread. First, pierce the cover through the inner lining.
The second stitch must go through both the layers, from the outer lining. Sew along the gap. Adjust the tightness as you go along.
When you finish your sewing, tie another knot, cut the remaining thread.
cleaning tips
A quality fabrics cleaning solution
A couple of light sprays directly on the area to be cleaned
A detailing brush with slightly stiff bristles
A clean microfiber towel
a bit more
Wrap microfibre cloth around that quarter and then start to work it by gently twisting the cloth
If there are any particularly grease areas such as the thumb grips, use a single finger wrapped in the microfibre to concentrate on those
Next use a dry microfibre cloth to absorb as much of the damp as possible, again rubbing the wheel to try to bring the fluffiness back
leave the wheel to dry out
★★★★

product surprisingly good quality, it took me 3 hours to do but it fits pretty good. the only complaint I have is that I had to cut out buts around paddle shifter area. people who buy it need to leave a note for the seller if your steering wheel got paddle shifters. Maybe its my fault didnt put additional infor when I put the order through. But anyway I love it and it really makes a big difference, I have large hands and extra thickness makes it more comfortable and less slippery. 9/10

Stewart M.

25 Mar 2023
★★★★★

Ordered my alcantara material and sewed it on for my Audi. Great quality, great support/service. Sewing instructions could be better, but there's tons of YouTube videos with good tutorials. The one from Crazy Car Mods is very easy to follow.

Yamin Zariq Ahsan

14 Sep 2019
Shooper J

02 Feb 2022 08:36 MX
★★★★★

worth the cost! Great item transforms the steering wheel. Thank you very much!

Sean C. U***h

21 Dec 2020 14:14 WA. Aus
★★★★★

Just installed the steering wheel cover. I bought from this seller because i saw a review from another customer and it looked great ! No wrinkles, looks perfect. So i tried myself. It took around 4 hours, but i wanted to make it look flawless. I'd like to thank the seller, he/she shipped very fast. Also the packaging was very well ! I am very pleased with the outcome ! If i need anything else i will definitely buy from this seller !

Ticky Ahabbbb

2021/7/15
dont buy this if you dont know how to do sewing and stitching. took me so long but still cant fit well, better ask someone professional to do it. good quality though.

Walter H.

14 Sep 2021 17:33 London. UK.
A bit expensive than I expected, but this alcantara feels sooooooo good, way much better than the suede one I had before, not sure how long it will last, time will tell......

Vitas Hq2wthq

18 Dec 2021 21:42 Tokyo JP.
★★★★★

This material is not only high end in texture, but also functionally better than traditional suede. The instructions estimated that it would take about 2 hours to stitch the cover on, but it took me longer, about 3 hours. Overall it was not difficult, but you have to be patient. I'm very satisfied with the final result

Allen WKer.

03 Jan 2023 10:20 CA